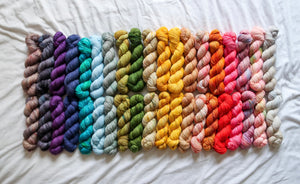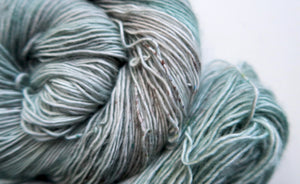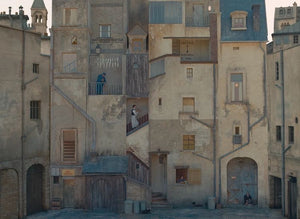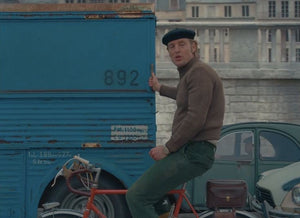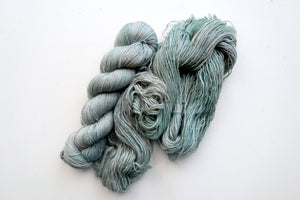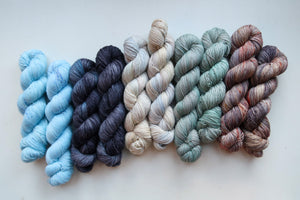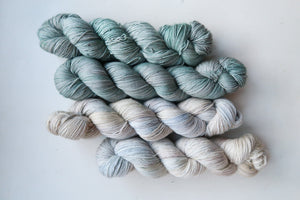 The French Dispatch
AVAILABLE FOR PRE-ORDER ON:

ANGEL LACE: 50/30/20% Baby Suri Alpaca, Extrafine Merino, Silk NSW (100gr)(1200m)
SURIEAL: 74/26% Baby Suri Alpaca, Mulberry Silk Lace NSW (50gr)(300m)
MERVEILLE: 100% Merino single ply fingeriung SW (100gr)(366m)
CLASSIC 4ply: 100% 19.5 Micron superfine Merino SW, 3ply twist (100gr)(400m)

NEW

 50gr 4ply: 100% Merino SW 4ply (50gr)(200m)
SWEET SOCK 4ply: 75/25% Merino, Nylon SW (100gr)(425m)
SPARKLE SOCK 4ply: 75/20/5% Merino, Nylon, Silver Stellina, SW (100gr) (400m)

CLASSIC 8ply: 

100

% 19.5 Micron superfine Merino DK SW, 3ply twist (100gr)(225m)

NEW

 50gr 8ply: 

100% 

superfine Merino DK SW, 4ply (50gr)(100m)

NEW

 MCN WORSTED: 80/10/10% Merino SW, Cashmere, Nylon 3ply worsted weight (100gr)(166m)

SWEET SOCK MINI:  75/25% Merino, Nylon SW (20gr)(85m)
DELIVERY TIME:

This product is only available on pre-order. The listing will be live for a week (or until maximum capacity is reached, keep an eye on home page or social medias for updates), and I will then order the yarn which takes about 2 weeks to be delivered. From there, you can expect 4-6 weeks before delivery! I will do my utmost to send these as fast as I can humanly dye them :)

SKEIN/CAKE:
By default my yarn is delivered as a 100gr skein, but if you do not have the winder to help you cake it, it can be quite laborious! Choose the cake option so I can do it for you and your yarn can arrive ready to cast-on!
LARGE ORDER DISCOUNTS:
In an effort or fairness to help those who need to purchase larger amount of yarn to knit garment of big size, I have therefore created several discounts. These discounts have been designed to facilitate an issue that larger folks are facing, please only use it if this description fits you. Head to the SWEATER QUANTITY ORDER to find the discount codes.

DIFFERENT BASE, DIFFERENT RESULTS:
Each fibre blend is different and therefore takes the colour in a different way. SuperWash yarns (SW) will be more vibrant than Non-SuperWash (NSW). 
The difference are very subtle, mostly in vibrance of colours, but please take it into account before ordering! Each base is different, and each batch is, even with the perfect recipe :)
RETURNS:
If you are not happy with your product, please contact me to let me know. Depending on the issue, you may be able to be issued a full refund if you contact me under 2 weeks of receiving the items, and ship it back to me in it's original packaging, undamaged.
Please pay attention when ordering, no returns or refund will be available for an ordering mistake once the product has been shipped. Review your order and for any mistakes contact me to modify your order.
Don't hesitate to email me any question :)