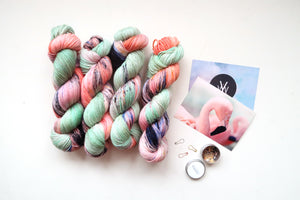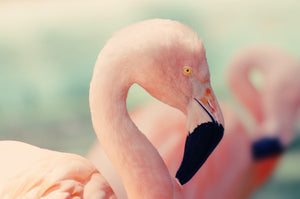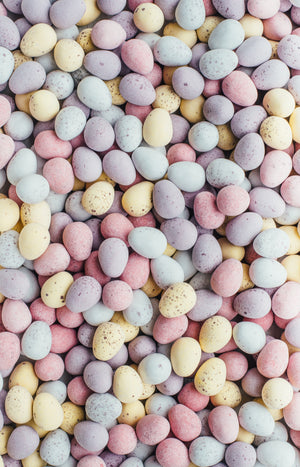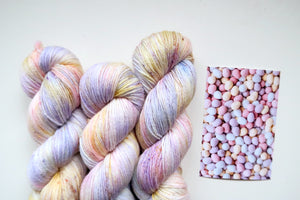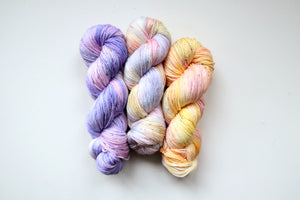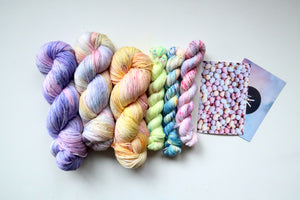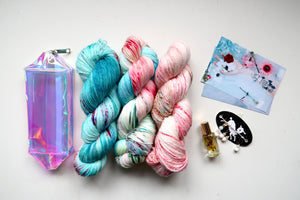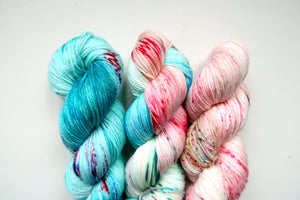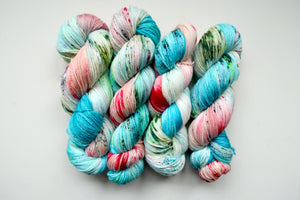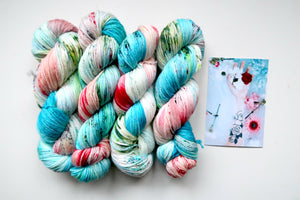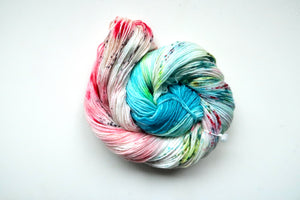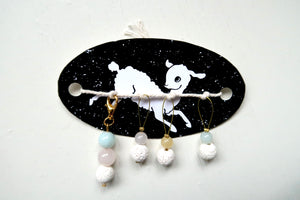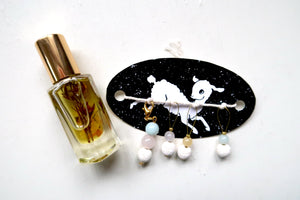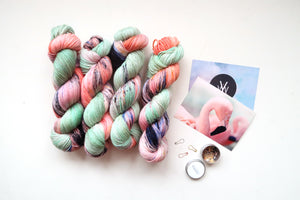 SPRING WAVE
This first round of Clubs is now close and a new round will be listed next year in around March. Read all informations about Clubs and how they work down bellow, and have a scroll down to the bottom of the page to see each Club creation for this first round!


HOW DOES IT WORK?:
Yarn Clubs are a fun way for you to receive monthly surprise yarn by your favourite dyers, and for us dyers to get carte Blanche on the creativity front!
A moodboard is created with many pictures to give you an idea about the colours, hues and tones that you can expect when receiving your monthly yarn.
If you are here, that means you have selected the softness and refreshing colours of Spring Wave, which will be an ode to pastels and delicate colourways.

Once you have selected the Club of your choice, head to the rolling menu on the left to select what type of yarn you would prefer, and how much of it you would like.

You can choose between 1 skein per month, or 3 skeins per months!
If you choose 3 skeins per month, the set will come as a fade. 
Each Club runs for 3 months with the first yarn to be delivered a month after purchase, and every month after that.
Your monthly package will also contain some other surprise little goodies to make it extra special for you <3
PLEASE NOTE: due to the nature of this product, the difference in shipping cost for nationals and internationals and the fact that yarn will be shipped monthly, the cost of shipping can vary greatly and therefore isn't included in this Club. The shipping cost will be calculated individually after purchase and have to be paid directly after purchasing! To

 

know how much your shipping will cost based on your location, please scroll down to

 

"SHIPPING ESTIMATE"
Furthermore, if you purchase this Club from overseas, please note that due to Covid-19 and shipping delays in certain destination, I cannot guarantee that the yarn will be delivered monthly to you. It will be shipped at the same date each month, but could arrive many weeks later!
All set? Then scroll down to the bottom of the page to explore the moodboard made of stunning photos that will inspire the colour of this Club.

DELIVERY TIME:
This is a monthly pre-order. After purchasing the Club, contact me so I can inform you of your total shipping cost. Once the shipping cost has been paid, you will receive your first monthly yarn a month after purchasing this club, and every month after that for a total of 3 months.
SKEIN/CAKE:
By default my yarn is delivered as a 100gr skein, but if you do not have the winder to help you cake it, it can be quite laborious. Choose to buy a caking service on the side to have me cake it for you so you can be ready to knit as soon as it arrives! Find the cake option under the Service tab.
RETURNS:
If you are not happy with your product, please contact me to let me know. 
Please note that due to the nature of this product, no return or refund will be accepted after 2 weeks past the date of purchase. 
There is no guarantee that you will love this yarn. The yarn will be inspired by the colours of the moodboard, and I will do my outmost to create stunning colourways for you, but there is no other guidelines for this yarn, which means that you have to be open for all possibilities. This is part of the fun! 
Don't hesitate to email me any question :)
SHIPPING ESTIMATE: 
Here is a shipping cost estimate depending on your situation! The table bellow will show you how much shipping needs to be paid ON TOP of your club subscription, and is required to be paid up to one week after purchase. If shipping isn't paid on time, your club membership will be refunded a week after purchase.
Please note that this shipping is the total cost of shipping for all 3 deliveries, and DOES NOT include tracking (appart from NZ). For the cost of a tracked delivery, please contact me to organise this.
If you order from overseas and would like to receive all of your yarn at once to avoid extra shipping cost, it is possible. However, you yarn will only be shipped at the very end of the Club subscription, which will be 4 months after purchase (as the first delivery is planned for a month after purchase). Please contact me to organise this :)
| | | |
| --- | --- | --- |
| LOCATION |  1 SKEIN PER MONTH |  3 SKEINS PER MONTH |
| NZ | 16.50$ | 20$ |
| AUSTRALIA | 36$ | 45$ |
| EUROPE | 75$ | 90$ |
| USA | 66$ | 100$ |
| ASIA | 60$ | 75$ |
| AFRICA | 75$ | 90$ |