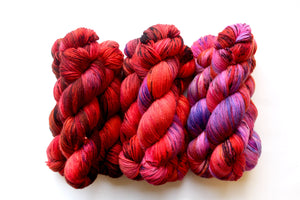 Solaris Fade Kit
UPON REQUEST PRE-ORDER:
All fades are now only available upon request. Please email me at yeahyeahyarn@gmail.com to request a fade. This is subject to my availability at the time, and we can discuss when I'll be able to create one for you!
The Solaris Fade kit is my second fade made for the shop. Composed of burning and fiery deep and rich red, melting into orange and maroon, with lilac emerging and ending on beautifully soft sandy grey with hints of yellow and lilac.
Composed of 5 skeins. Shown here on SOCK IT UP
In order from left to right we have:
- Dante's Pic
- Valhalla
- Reefer Madness
- Penumbra
- Aurora
AVAILABLE ON:
BLISS WILD: 100% Merino 4ply SW (100gr) (400m)
SOCK IT UP : 80/20% Merino, Nylon 4ply SW (100gr) (400m)
LUSH WILD: 100% Merino 8ply DK SW (100gr) (200m)
SKEIN/CAKE:
By default my yarn is delivered as a 100gr skein, but if you do not have the winder to help you cake it, it can be quite laborious! Go to the Cake Service tab and add the number of skeins you are purchasing to your cart. For the fade, you need to add 5 Caking Services.
DIFFERENT BASE, DIFFERENT RESULTS:
Each fibre blend is different and therefore takes the colour in a different way. SuperWash yarns (SW) will be more vibrant than Non-SuperWash (NSW). 
The difference are very subtle, mostly in vibrance of colours, but please take it into account before ordering! Each base is different, and each batch is, even with the perfect recipe :)
RETURNS:
If you are not happy with your product, please contact me to let me know. Depending on the issue, you may be able to be issued a full refund if you contact me under 2 weeks of receiving the items, and ship it back to me in it's original packaging, undamaged.
Please pay attention when ordering, no returns or refund will be available for an ordering mistake once the product has been shipped. Review your order and for any mistakes contact me to modify your order.
Don't hesitate to email me any question :)