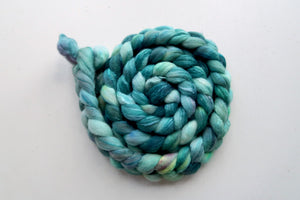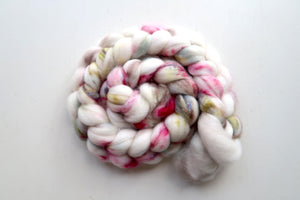 Roving
 AVAILABLE ON:

ROVING: 85/15% Fine Natural White Corriedale Wool, Natural White Mulberry Silk (approx 100gr)
OPTIONS:
Here is a series of different coloured braids of roving. Most are about 100gr each, except for one which has accidentally been broken into two parts and is therefore discounted :)

DELIVERY TIME:
This yarn is ready to ship! It will be packaged and shipped within the week, and the courier can take 1-3 business days to pick up the parcel and deliver it to you.
RETURNS:
If you are not happy with your product, please contact me to let me know. Depending on the issue, you may be able to be issued a full refund if you contact me under 2 weeks of receiving the items, and ship it back to me in it's original packaging, undamaged.
Don't hesitate to email me any question :)