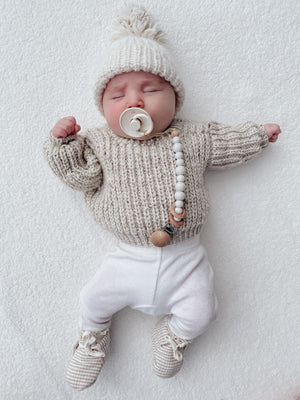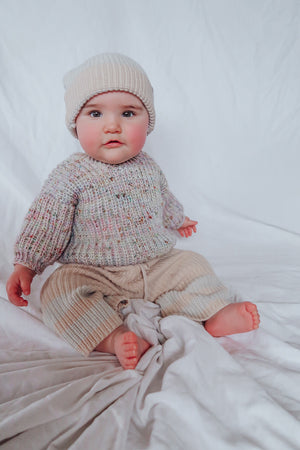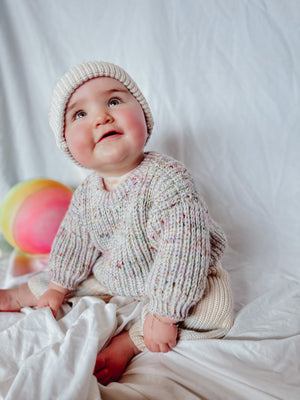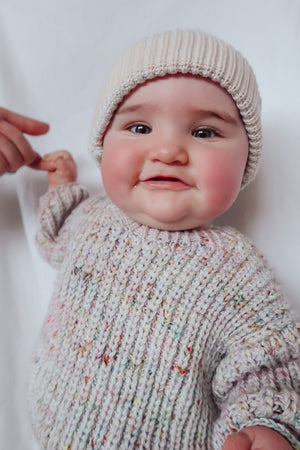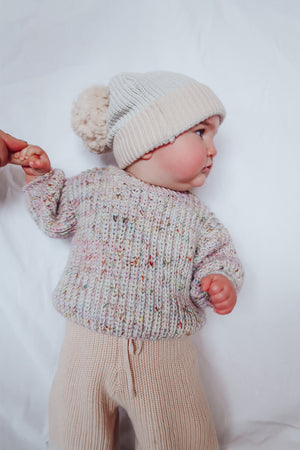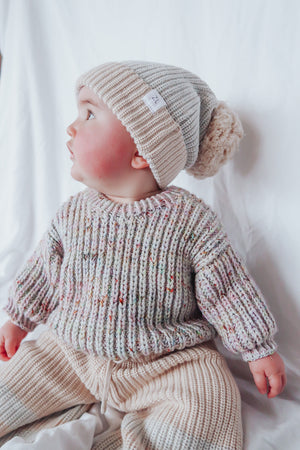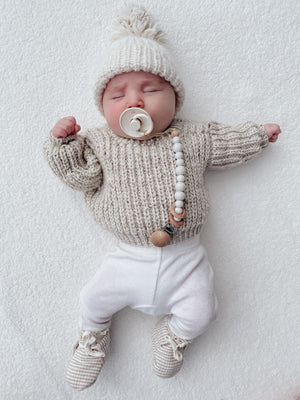 Roux's Fisherman Sweater
A beautiful and timeless fisherman chunky jumper. 
I designed this sweater for my daughter Roux who was born in the winter. This sweater is designed to be versatile and accessible to everyone.
It is knitted in the round, and I am working on a version for working it flat. You can choose to knit it in a mix of 8ply & 4 ply for a beautiful finished effect, where you will knit hem, cuff & neckline in 8ply and hold an additional strand of 4ply for the body, that will give it the equivalent of a squishy 12ply.
Or, you can choose simplicity by using only 10ply for the whole sweater!
This is designed to be slightly oversized by a few inches at the chest for a looser fit. This allows for a long wear due to the stretch ability of the
fisherman stitch - so depending on your fit
preference, you can choose to size down!
I recommend using a yarn with a good bounce and stretch for this pattern, this will allow for a lot more ease when passing it over baby's head! It is designed with a lot of stretch, but adding a bouncy yarn helps -
Approximate meterage needed:
YARN OPTION 1 (4ply + 8ply)
NB (4ply: 150m - 8ply: 220m), 0-3 months (4ply: 200m - 8ply: 300m), 3-6 months (4ply: 250m - 8ply: 350m), 6-12 months (4ply: 320m - 8ply: 450m), 12-18 months (4ply: 380m - 8ply: 480m), 24 months (4ply: 450m - 8ply: 550m)
YARN OPTION 2 (10ply)
NB (220m), 0-3 months (300m), 3-6 months (350m), 6-12 months (450m), 12-18 months (480m), 24 months (550m)