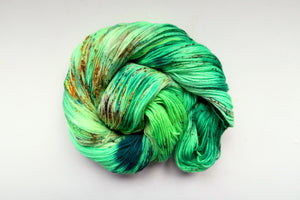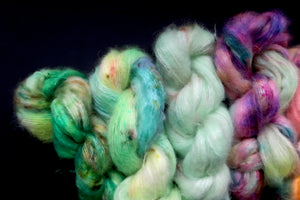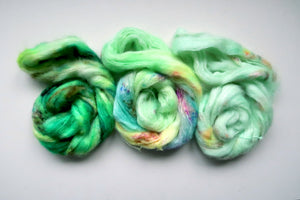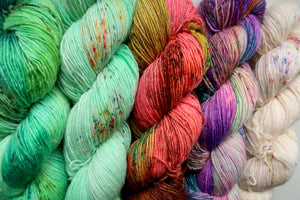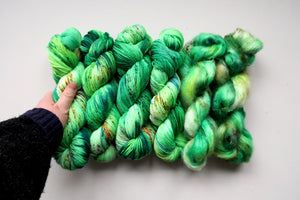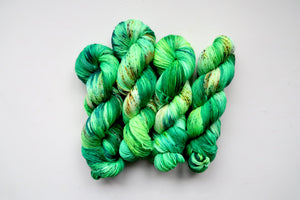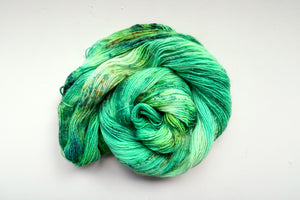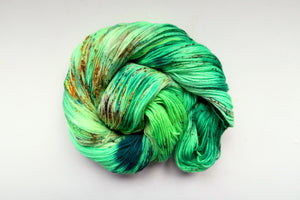 Malachite
Here's to the epitome of greens, Malachite! Rich, variegated emerald greens with pops of blue and golden browns.
Scroll down to see how this colourway can combine with others...
AVAILABLE ON:

DAINTY: 70/30% Kidsilk mohair NSW (50gr)(450m)
SMITTEN LINEN: 90/10% Merino SW, Linen single ply (100gr)(360m)
BLISS: 100% Merino 4ply SW (100gr)(365m)
SPARKLE SOCK: 75/20/5% Merino SW, Nylon, Silver stellina 4ply (100gr)(360m)
LUSH: 100% Corriedale 8ply DK SW (100gr) (188m)
DELIVERY TIME:
This yarn is ready to ship! It will be packaged and shipped within the week, and the courier can take 1-3 business days to pick up the parcel and deliver it to you.
PLEASE NOTE: Overseas delivery cost does not include tracking. To track your order, please contact me via email or social media to organise payment. It is generally about double the original price. I strongly recommend tracking as with Covid, mail can take a really long time to arrive at some destination.
SKEIN/CAKE:

By default my yarn is delivered as a 100gr skein, but if you do not have the winder to help you cake it, it can be quite laborious. Choose to buy a caking service on the side to have me cake it for you so you can be ready to knit as soon as it arrives! Find the cake option under the Service tab.
LARGE ORDER DISCOUNTS:
In an effort or fairness to help those who need to purchase larger amount of yarn to knit garment of big size, I have therefore created several discounts. These discounts have been designed to facilitate an issue that larger folks are facing, please only use it if this description fits you. Head to the SWEATER QUANTITY ORDER to find the discount codes.
RETURNS:
If you are not happy with your product, please contact me to let me know. Depending on the issue, you may be able to be issued a full refund if you contact me under 2 weeks of receiving the items, and ship it back to me in it's original packaging, undamaged.
Don't hesitate to email me any question :)