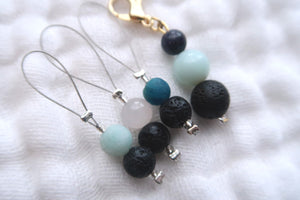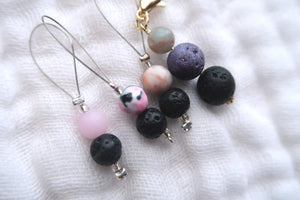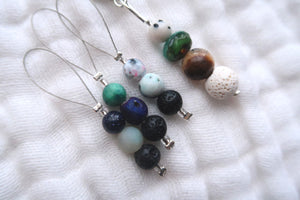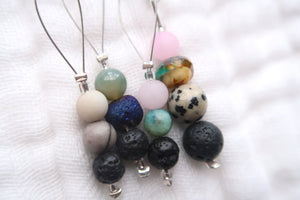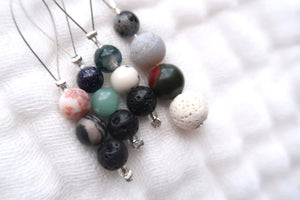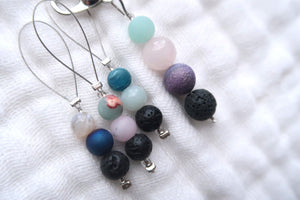 Lava Beads & Gemstones Stitch Markers
It was overdue time for a restock of these delightful markers!
Each of them has been crafted with natural gemstones such as Jasper, Emerald, Druzy, Amethyst or Lapis Lazuli, and an additional lava bead.
The natural porous texture of the lava beads makes them perfect to hold onto the delicate scent of essential oils.
Dip the end of your markers into your favourite oil or place a couple of drops onto the bead and let it dry for a few minutes. Then get knitting, and enjoy the calming scent of the oils each time you start a new round! The marker will also rub against your wool, slowly but surely impregnating it with the delicate smell as your project grow.

Each set is composed of 3 markers, and a progress keeper.
The first 12 sets have only 2 beads, whilst the other 14 have 3 beads!
DELIVERY TIME:
This product is ready to ship! It will be packaged and shipped within the week, and the courier can take 1-3 business days to pick up the parcel and deliver it to you.
Packaging has now been upgraded! Fully tracked shipping for NZ using biodegradable packaging, and fully tracked shipping overseas using DHL services with a flat rate up to 2kg!
RETURNS:
If you are not happy with your product, please contact me to let me know. Depending on the issue, you may be able to be issued a full refund if you contact me under 2 weeks of receiving the items, and ship it back to me in it's original packaging, undamaged.
Don't hesitate to email me any question :)