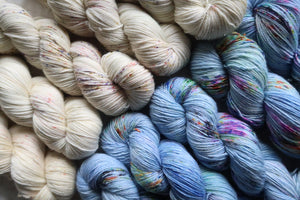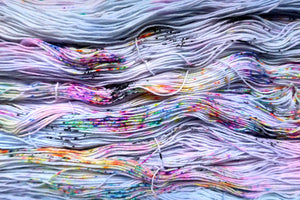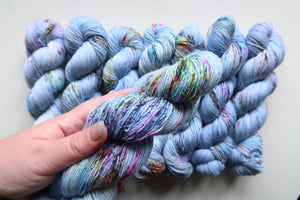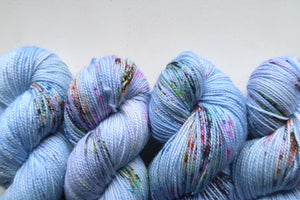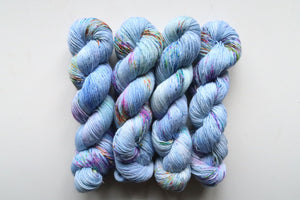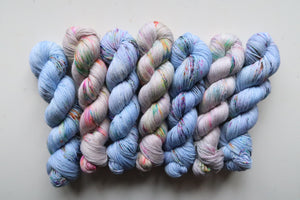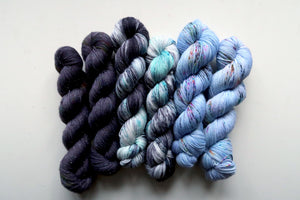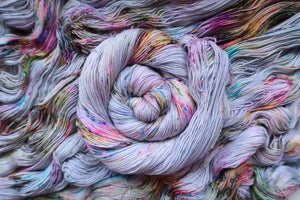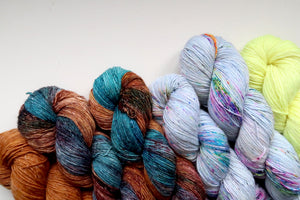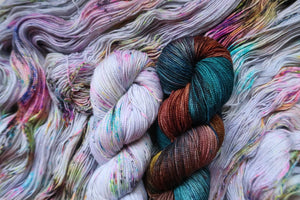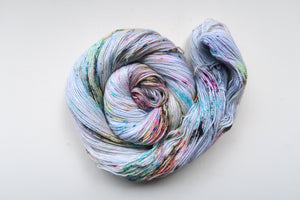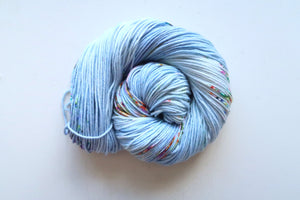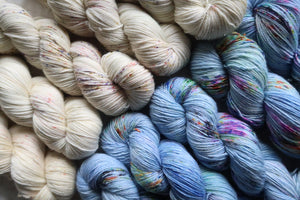 Furcifer Pardalis
Here is Furcifer Pardalis, appropriately named after my favourite species of chameleon, it is a gorgeous baby blue base with pops of neon throughout.
Scroll down to see more photos of this colour paired with others!
AVAILABLE FOR PRE-ORDER ON:

CLASSIC 4ply: 100% 19.5 Micron superfine Merino SW, 3ply twist (100gr)(400m)
SWEET SOCK 4ply: 75/25% Merino, Nylon SW (100gr)(425m)
SPARKLE SOCK 4ply: 75/20/5% Merino, Nylon, Silver Stellina, SW (100gr) (400m)

CLASSIC 8ply: 

100

% 19.5 Micron superfine Merino DK SW, 3ply twist (100gr)(225m)
DELIVERY TIME:

This product is only available on pre-order. The listing will be live for a week, and I will then order the yarn which takes about 2 weeks to be delivered. From there, you can expect 3-5 weeks before delivery at the latest! At best your order will arrive by early March, but could be towards end of March if there was a lot of orders. I will keep updating delivery times on my social media.
SKEIN/CAKE:

By default my yarn is delivered as a 100gr skein, but if you do not have the winder to help you cake it, it can be quite laborious. Choose to buy a caking service on the side to have me cake it for you so you can be ready to knit as soon as it arrives! Find the cake option under the Service tab.
LARGE ORDER DISCOUNTS:
In an effort or fairness to help those who need to purchase larger amount of yarn to knit garment of big size, I have therefore created several discounts. These discounts have been designed to facilitate an issue that larger folks are facing, please only use it if this description fits you. Head to the SWEATER QUANTITY ORDER to find the discount codes.
DIFFERENT BASE, DIFFERENT RESULTS:
Each fibre blend is different and therefore takes the colour in a different way. SuperWash yarns (SW) will be more vibrant than Non-SuperWash (NSW). 
The difference are very subtle, mostly in vibrance of colours, but please take it into account before ordering! Each base is different, and each batch is, even with the perfect recipe :)
RETURNS:
If you are not happy with your product, please contact me to let me know. Depending on the issue, you may be able to be issued a full refund if you contact me under 2 weeks of receiving the items, and ship it back to me in it's original packaging, undamaged.
Don't hesitate to email me any question :)